About Us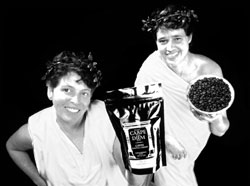 What? You've never seen coffee goddesses before?
Congratulations! You found us. We know there are a lot of coffee roasters out there all competing for your attention. AND we also know how finicky website addresses can be. Just misplace one letter and you could end up at a rug store! We have put a lot of effort into our new site to make it easier to navigate. If you see some glaring mistakes feel free to inform us. We're hip to change; it has only taken us about ten years to spruce up our old site. And now that we have entered a new decade, we have begun to dabble in Facebook too. Miracles happen every day!
So, peruse our offerings of freshly roasted Maine coffee. Tell your friends about our freshly roasted Maine coffee. And then drink our freshly roasted Maine coffee. We found out today that we don't use the phrase freshly roasted Maine coffee enough, so it makes it hard for you new comers to find us. Hopefully this will help.
ONCE UPON A TIME, a long, long time ago there were two hard working, underpaid, women who decided to break away from the "evil stepbrothers" to start their own coffee roasting business. Those two women had been working together for quite a while and had managed to learn a lot about running that coffee roasting business. They approached the evil stepbrothers about a buy-out. They were told that two girls could never run a coffee roasting business.
TWO WEEKS LATER, after having worked out a notice, our heroes, Jane and Gussie, made a pact to meet twice a week in an attic apartment to hammer out a business plan for Carpe Diem Coffee Roasting Company. Jane and Gussie spent the summer working several part time jobs and researching vendors and prospective customers for their new company. The two spent endless hours up in that stuffy little apartment typing away at the business plan. At that time neither had many computer skills and didn't know about spread sheets or excel programs. When cash flow projection time came they spent a lot of time with a hand held calculator (solar powered, no less) punching in numbers and chanting calculations to the typist.
Featured Products
Gift Cards

Description:

The gift that keeps on giving!  Sold in amounts of $25, $50 and $100.

Diner Mug

Description:

These mugs will take you right back to that old favorite diner you went to years ago. Its thick ceramic build sports the same Turkish proverb and our retro-ized logo.

Cards

Description:

We've done some cute stuff here at Carpe Diem but these greeting cards might be our best work yet! The set of six includes two Thank-You cards, a Thinking of you, a Happy Birthday, a sweet thought, and a blank card. Each card features our stick-figure women and comes with an envelope all packaged in a handsome red sleeve.