Corporate Gifts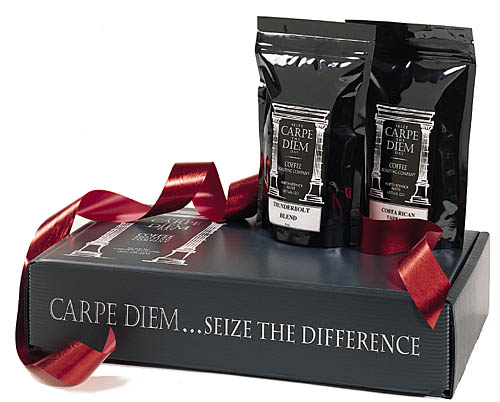 Do you want to stand apart from other corporate gifts? Then, wrap yourself in cellophane and meet your clients at the door. Hee hee. Actually, give them some great coffee. And, print your name on the bag! Classy, yes? We can take any of our blends and customize the label with your message!
Win friends and influence the powerful.
Think of it: Promotions! Power! Fame! You'll be remembered every time your clients or friends drink YOUR personalized coffee – not as much as if you met them clothed only in cellophane, but…
Let us make your gift giving easy and remarkable. Send a box of freshly roasted coffees from Maine. Select from one of our three options.
Call us to discuss your corporate needs.
Featured Products
Gift Cards

Description:

The gift that keeps on giving!  Sold in amounts of $25, $50 and $100.

Redeeming a Gift Card:  Make sure to have your 16-digit card number and 3-digit CVV code handy when you call in an order!

Diner Mug

Description:

These mugs will take you right back to that old favorite diner you went to years ago. Its thick ceramic build sports the same Turkish proverb and our retro-ized logo.

Cards

Description:

We've done some cute stuff here at Carpe Diem but these greeting cards might be our best work yet! The set of six includes two Thank-You cards, a Thinking of you, a Happy Birthday, a sweet thought, and a blank card. Each card features our stick-figure women and comes with an envelope all packaged in a handsome red sleeve.